UPSC Full Form: What is UPSC and its functions and related information– UPSC Full Form:- Today we will learn about Upsc. In which you will get information about the full form of Upsc, what is UPSC etc. If you also want to know about Upsc, then definitely read our article on Upsc full form.
Friends, no exam is done without any institution. Some organization definitely works for this. You must have applied or appeared for exams ranging from state level to national level.
There are also institutions for national level exams etc. Similarly, the institution conducting the examination up to a national level is UPSC. Next we are going to give some specific information about UPSC.
UPSC Full Form
UPSC Full Form – Union Public Service Commission
UPSC Full Form In Hindi – संघ लोक सेवा आयोग
Which exams does UPSC conduct?
As we mentioned, UPSC conducts many big national level exams. In which the names of some exams are as follows-
Some of the exams conducted by UPSC are as follows:-
List Of Exams conducted by UPSC
Civil service exam
Indian Forest Service examination
Combined Defence Services Examination
Engineering Services Examination
National Defence Academy Examination
Naval Academy Examination
Combined Medical Services Examination
Special Class Railway Apprentice
Indian Economic Service/Indian Statistical Service Examination
Combined Geoscientist and Geologist Examination
Central Armed Police Forces (Assistant Commandant)
CISF exam etc.
UPSC Exam Posts Full Form : UPSC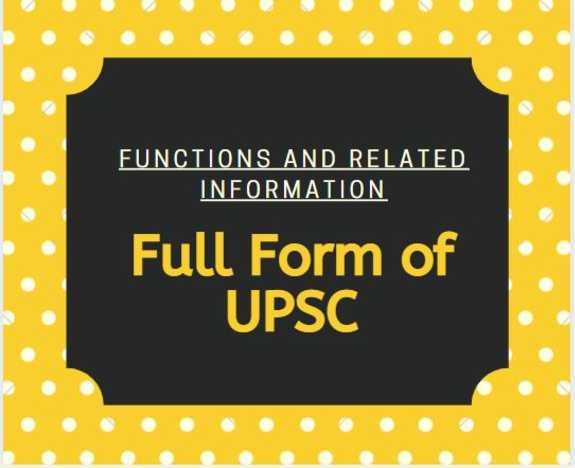 | | |
| --- | --- |
| Post | Full Form |
| IAS | Indian Administrative Service |
| IPS | Indian Police Service |
| IFS | Indian Foreign Service |
| IRS | Indian Revenue Service |
There are many such central exams etc., which are completed by this institution and through which lakhs of candidates can be recruited.
UPSC Full Form In Hindi
Do you want to know the UPSC Full Form In Hindi that you answer is the UPSC Full Form In Hindi is संघ लोक सेवा आयोग
UPSC Recruitment Process
There are three stages in the UPSC exam: Prelims, Mains, and personality tests.
| | | | | |
| --- | --- | --- | --- | --- |
| Paper | Type | No. of questions | Marks | Duration |
| General Studies I | Objective | 100 | 200 | 2 hours |
| General Studies II (CSAT) | Objective | 80 | 200 | 2 hours |
UPSC Exam pattern for Mains:
UPSC Mains exam consists of 9 papers, candidates who qualify the prelims exam can appear for the mains exam. All the papers of Mains exam are of descriptive type.
Two language papers are qualifying in nature. UPSC Mains exam is conducted over a duration of 5-7 days, Paper A and B are of qualifying nature, candidates must score at least 25% each in their Paper I to Paper VII.
UPSC Interview:
Interview is the last stage of UPSC exam. Merit list is prepared on the basis of Interview/Personality Test and Mains Exam. The maximum marks allotted for the interview stage is 275, thus the total marks for the merit list is 2025.
The interviewer will judge the mental and social traits of the student by asking questions of general interest. Some of the qualities they look for are mental alertness, critical powers of assimilation, clear and logical exposition, a balance of judgment, variety, and depth of interest, leadership, intellectual and moral integrity.
Headquarter of UPSC- Head office of UPSC
The structure of this institution is like other institutions. It also consists of the staff and the chairman. The headquarter of UPSC organization is located in New Delhi.
All the members of this commission are elected by the President. The term of these members is for 6 years or till the age of 65 years. They can resign from their post to the President whenever they want.
Not only this, if these members ever abuse their office, then the President has the right to dismiss them. The current chairman of this commission is Arvind Saxena till writing this article.
UPSC History
The establishment of such a commission was considered long back in the Indian Government Legislation of 1919 itself. But at that time this commission could not be made due to various reasons.
For its establishment, a Royal Commission was formed by the English ruler Lord Lee in 1923 to give consultations. The purpose of this commission was to emphasize the establishment of this commission.
Purpose of UPSC establishment
So that this commission can be set up at the earliest. Due to his views on the establishment of this commission, this commission was established on October 1926. The purpose of setting up this commission was to recruit officers on big posts etc. Its first president was Sir Ross Barker.
What are the functions of UPSC apart from Exams?
Apart from conducting UPSC exams up to the national level, this commission discharges many duties, which you should know. This commission works from time to time to make rules for recruitment and make changes in them.
This commission also does the work of forming various committees for promotion related to the department. If any matter is given by the President, then to work to solve it.
Not only this, by keeping control over the big exams, the same commission also does the work of getting them completed with complete safety and care.
What is the qualification required for UPSC?
Friends, to give any exam, you should have qualification for it. This is a big level exam. But you do not need any big degree or diploma to give most of its exams.
Rather, you should have an undergraduate degree i.e. graduate education. If you are in 3rd year of graduation and you have given its 3rd year exam, then you can give UPSC exam. If you have completed your studies till 12th and you are thinking that you will be able to give its exam, then it cannot happen.
Because you have to do further graduation for this. So friends, you must have come to know that what qualification you should complete to give UPSC exam.
Syllabus for UPSC exam
Syllabus for UPSC exam: Friends, the syllabus of any exam is made according to its qualification level. You need knowledge up to graduation level in its syllabus. Because according to this level the syllabus of every exam is decided.
In most such exams, there is syllabus according to your subject. You can check the information of its syllabus online according to the exams.
Read More short forms and their full fomr
What is the recruitment process of UPSC?
This commission conducts various types of exams, about which we have already told you. In these exams, the selection process of most of the exams is written exam and interview.
Based on this the candidates are selected. Merit list is issued on the basis of these exams, in which only the candidates securing more marks are able to qualify. Apart from this, the recruitment process of some exams varies according to them.
Specific information related to UPSC
There are many more information related to this commission, which you should know-
If you are thinking of getting any information related to this, then let us
know that this commission has its own online website www.upsc.gov.in. Where you can learn more about the exams related to it. Not only this, you can also apply for vacancies on the basis of this website.
Lakhs of candidates are studying outside for the competition for the exams of this commission.
For the exams of this commission, many coaching centers have been opened in big cities.
For UPSC exams, people study for years and keep busy for it.
Article 315-323 of the Constitution of India provides for the constitution of a Federal Public Service Commission.
UPSC Full Form
So Finders, if you liked this information "UPSC Full Form", then you can tell us by commenting in the comment box below and if you want to ask some questions through the article of UPSC Full Form then you can ask our team. can.
We have shared many information related to UPSC with you, which is very useful for you. If you think that any information has been missed in the UPSC Full Form article, then you can share this thing with us in the comment, we will definitely try to guide you by improving it.
Finally Once again about UPSC Full Form is Union Public Service Commission