WhatsApp Image editing tool: Do you hear about WhatsApp 'Image editing' tool: if not I will explain it, You have not hear this is newly updating feature from WhatsApp. you may know, there is a web version of WhatsApp in addition to the app in the entire world almost. WhatsApp web version now has [ Image editing feature ] 'photo editing' feature i.e. you can use it on your laptop or PP. You will be able to edit a photo before sending it on WhatsApp. This update is currently available to some users and is being rolled out to others. This feature of WhatsApp was seen in beta version a few days ago.
WhatsApp Image editing tool
In the latest update of WhatsApp web, users are getting the option to edit the photo. There is also an option to add stickers. Before you send a photo, you can crop it, add a sticker, write a text and add an emoji. It's pretty much like a mobile app. The most important thing is that the mobile app does not have the option to add emoji in the photo editing tool whereas the web version has this feature.
Read also: WhatsApp Payment, and How to activate WhatsApp Payment in India
How to use the WhatsApp Image editing tool
feature To use this feature of WhatsApp you have to select a photo to send in the same way, then you will see your editing tools. You can also get help from the screenshot below.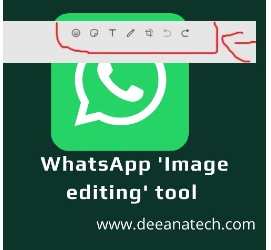 you can check online WhatsApp web newly added feature available or not.
Read also: The Best Cheap Webhosting Services: How To Find the Right Hosting for You and your Budget ? Webhosting Review
It is worth mentioning that a few days ago, WhatsApp has released an update of the View Once feature for iPhone users. The message will disappear once you see the message once you turn on WhatsApp's View Once feature. WhatsApp's View Once feature can be used with photos, videos and other messages.
Great feature connected to WhatsApp, messages will disappear once viewed

Instant messaging app WhatsApp has released a new feature 'View Once' WhatsApp iPhone users are getting an update of the View Once feature. Once you turn on this feature of WhatsApp, once you see the message, the message will disappear.
New version of WhatsApp
With this feature a new version of WhatsApp has been released which you can download from Apple's App Store.
The style of in-app message notifications has also changed with this update. WhatsApp has been setting up the 'View Once' feature for the last several months.
Photos and videos sent after viewing the View Once feature will disappear once viewed, however, this feature will not prevent users from taking screenshots. WhatsApp's View Once feature is available on iPhone version 2.21.150 of the iPhone
You have to tap on the '1' icon to use this feature. Once disappeared, they will not appear in the photo-video chat. In addition, where the media file is stored, the photo-video sent with this feature will not be visible.

WhatsApp has said that this feature will be released to all in the coming weeks.
Do You WhatsApp meaning in hindi?