Guide for Moving Blogger to WordPress, How to migrate site from Blogger to WordPress? Buy Hosting– Guide for Moving Blogger to WordPress– Friends, are you thinking of making your own blog, is your Blog on BlogSpot.com and you want to transfer your Blog to WordPress: – that is also free.
So, this article is for you today, I will tell you about a hosting that provides WordPress hosting for free…If you get your blog transferred to BlogSpot.com for free on WordPress then you should must read this post completely.
If you want to create a new blog, then this post is more important for you, because today I will tell you about WordPress blog website for free. But I am going to tell you about making blog over WordPress.
Why are You moving blog from Blogger.com to WordPress?
All the topics of this article are as follows :-
why transfer Your blog to WordPress?
Free WordPress Hosting for Lifetime.
Pre-free hosting for WordPress.
Guide for Moving Blogger to WordPress
Why transfer blog from BlogSpot to WordPress ?
Friends, if you use Blogger.com, then you will know that we do not get that much premium feature on Blogger.com. Which we find very easily on WordPress. At Blogger.com we do not get very good and advance featured themes and custom design. does not make our blog look good like WordPress.
But if you have a blog on WordPress then you can customize your blog according to your desire, more user friendly, more attractive, the theme is also very premium as compared to Blogger.com on WordPress.
More bloggers are not able to bring traffic to their stay. By which they do not get much earning, and they also close the blog in last. But we get a lot of Plug-ins on WordPress with which we can optimize out site and rank it on Google so, now you must have found out.
Why it is important to have WordPress blog. So let's quickly find out about hosting, how to buy hosting for free and how to install WordPress on it.
Lifetime Free WordPress Hosting.
Friends, I am going to tell you about the hosting Company.. I will also use this hosting and I am also happy with the hosting of this company. I have been using this hosting for 6 months. Bu I did not even realize that this is free Hosting because all the feature paid hosting in hosting are like the feature paid hosting.
Paid Hosting: Buy Hosting
1.Mewnix.com
If you want to buy paid hosting then in my opinion you should go with Mewnix.com. In Mewnix.com hosting provides cheap rate with 99.99% uptime. Your website never gone down, and customer support is very helping.
You can check rate and service by your ends and your desire.
2. sparrowhost.in Best Web Hosting Company in India
SparrowHost is a hosting provider company. If want to buy hosting you should go with sparrowhost.in. Now a special offer is going on that one year hosting in only ₹ 1 one rupee only. this offer will available for limited time.
Register Your Domain
The best thing is that with this hosting, you can also create a custom website too. Here I suggest these companies like "GoDaddy", "BigRock"etc. But You can register domain from GoDaddy between Rs 99 to about Rs 800 for one year. This price may varies. You can register domain from these companies also, "Namecheap", "BigRock", "Hostinger". their services are also good and customer supportive.
Read Also these Article
You will get domain name from this company for very low price. If you want to run your WordPress blog with free domain. You can visit "Freenom" company her you register domain absolutely free with these extensions .tk, .ml, .cf etc.
Pro-Free Hosting for WordPress.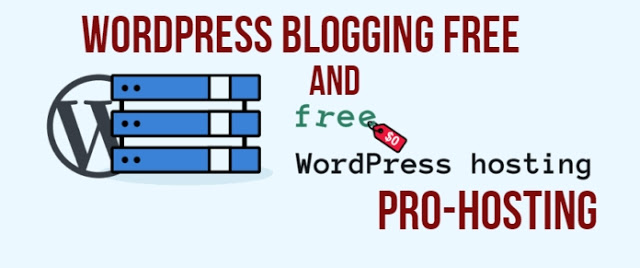 Friends , if you want to transfer your blog from Blogger to WordPress, then you can use Pro-Free Hosting. It is absolutely free.
Guide for Moving Blogger to WordPress, How to migrate site from Blogger to WordPress?
Conclusion:
It you transfer blog from Google Blogger to WordPress then you will get more functionality. Now there is not even that Google's Blogger is not good, this is also provides good services , and they are also good and it also has its own facility Google Blogger is better for beginner and learner they do more from Google Blogger.