How To Find Powerful Expired Domains, Learn 5 Step-by-Step Ways to Find Expired Domains:- Expired domains are domains that were previously registered but are no longer in use by their original owners. These domains can be powerful because they may already have some backlinks, history, and potentially even some existing traffic. Here are some steps you can follow to find and evaluate expired domains:
Search for expired domains using domain auction or brokerage websites. These websites list expired domains that are available for purchase. You can use various filters to narrow down your search, such as keywords, domain extension, and domain age.
Check the domain's backlink profile using a tool like Ahrefs or Majestic. A domain with a strong backlink profile may have more value as it may be able to pass more link equity to your site.
Check the domain's history using the Wayback Machine. This tool shows you how the domain was previously used, which can give you an idea of the type of content that was on the site and whether there may be any potential issues with the domain.
Check the domain's traffic using a tool like SimilarWeb. This can give you an idea of how much traffic the domain was receiving before it expired and whether it has potential to drive traffic to your site.
Evaluate the domain's brandability. Is the domain easy to remember and catchy? A domain that is easy to remember and branded well may be more valuable and easier to market.
Consider the length of the registration period. A longer registration period may indicate that the previous owner had more invested in the domain and may suggest that it has more value.
Finally, be sure to check if the domain is on any blacklists or has any negative associations that could potentially harm your brand.
Read Also: Know How to Find Expired Domains with Quality Backlinks?
As you Know domain names aren't issued without a deadline. First of All we should know that what is Expired Domain and Advantage of Expired Domain, how helpful for first rank in google and Is it beneficial or not . we should buy Expired Domain Name or not and how to optimized a Expired Domain Name what impact over Expired Domain. In expired domain the domain authority already high. why would anyone need it?  All Questions discuss  today.
How Can You Use Expired Domains For?
I personally use Expired Domain in different ways.
Building a Authority Site
Building a Blog network 
Redirects for 301
Building Authority Sites- Increase authority by increasing the volume of your website
Method # 1 – Building Authority Sites [ Apne Website ka authority badhae DA, PA badha kar ]
Authority Sites
Jab main ek Nai Authority Sites ya Niche site ka nirmaan karta hun, to main ise bilkul nae Domain par nahin karta. जब मैं एक नई अथॉरिटी साइट्स या Niche साइट का निर्माण करता हूं, तो मुख्य इसे बिलकुल नए डोमेन पर नहीं करता है।
Naya Domain ke sath problem yah hai ki apko ek SEO perspective se unke authorithy ke nirmaan mein nivesh karna hoga, jo karne ke lie important samay aur dhan kharch karata hai. costs significant time & money to do.
Expired Domain
Iske bajay main ek [ Expired Domain] samapt ho chuke समाप्त हो चुके Domain/ डोमेन ko Register karana pasand karta hun [register an expired domain that already has authority.] jismen pahle se hi DA,PA ho.
Yah mujhe ek badi shuruat deta hai aur aksar ek powerful Expired Domain par ek Content rich site ka nirmaan karata hai, jo bina kisi kam ke pahle Page ki ranking ko Crack karne ke lie paryapt hai.
See Also: Blog Writing in 2021: Great earning option for college students in 2021 for Making Money.
Powerful Expired Domain
powerful Expired Domain ka upyog karke site ki fast rank kara sakte hai, Apko bas ek nae Domain ke saath vah laabh nahin hoga! aur sabase achchha sa? kisi Expired Domain ko register karana bilakul nae Domain ko register karane se kahi behater hai.
Building A Private Blog Network
Method # 2 –Building A Private Blog Network ek Nijee blog Network ka nirman.
संक्षेप में / sankshep mein, Ap ek vishisht Niche mein high quality vaale powerful Authority sites [ high quality highly authoritative sites] ka ek bada banane ke lie expired Domain ka upayog karte hain aur fir aap apni site ko rank karne ke lie un sites ka upyog karte hain.
संक्षेप में, आप एक विशिष्ट nich में high quality वाले अत्यधिक authority साइटों का एक बेड़ा बनाने के लिए Expired Domain का उपयोग करते हैं और फिर आप अपनी sites को रैंक करने के लिए उन sites का उपयोग करते हैं। is site ke lie hamne unhen 14x khoj traffic ke lie kaise upayog kiya, dekhen
14x khoj Traffic SEO perspective Case Study Infographic
इस साइट के लिए हमने उन्हें 14x खोज ट्रैफ़िक के लिए कैसे उपयोग किया, देखें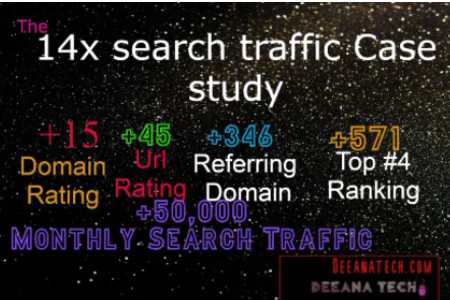 lekin yah sab aapke Niche mein Expired ho chuke Domain ko khojne ke sath shuru hota hai jismen ek saf link profile aur spam mukt itihaas hota hai jo ki kie gae karyon ke tulana mein aasaan hai.
लेकिन यह सब आपके Niche में समाप्त हो चुके Domain को खोजने के साथ शुरू होता है जिसमें एक साफ link profile और spam मुक्त इतिहास होता है जो कि किए गए कार्यों की तुलना में आसान है।
301 Redirects
Method #3 – 301 redirects Bas apke dvara kharide gae sexpired Domain le lo aur 301 ise apne mukhy site par redirect karen.
301 Redirects
Yah apki site par turant expired domain ke link juice aur Authority ka ek hisse se adhik hoga. yadi us Domain mein maujooda traffic hai to ye bonus ank hai !
Halanki yah tarika ek chetavani/warning/चेतावनी ke sath ata hai, Ap inmen se 1 ya 2quick shortcut :ke lie apni mukhy site par jakar prapt kar sakte hain: lekin main ise niyamit link building ki aadat ke roop mein nahin sujhaoonga.
How To Find Powerful Expired Domains
Ab aap jante hain ki apne fayde ke lie Powerful Domain kaise istemal karen, main Apko unhen khojne ke sabse asaan tarike dikhane ja raha hoon. आसानी से पावरफुल एक्सपायर्ड डोमेन कैसे पाएं
अब आप जानते हैं कि अपने फ़ायदे के लिए Expired Domain कैसे इस्तेमाल करें, मैं आपको उन्हें खोजने के सबसे इजी प्रोसेस दिखाने जा रहा हूँ|
Search Expired Domain
Aise yaha kuch trusted website ka naam batane ja raha hun jaha se ap best expired domain search kar sakte hai. ex. –1. expireddomains.net aur 2. expireddomains.io 3. spamzilla.io naamak web based tool. ऐसे 2टूल्स हैं जिनका मैं use करना चाहता हूं – expireddomains.net नामक website और spamzilla.io नामक वेब आधारित उपकरण।
Inmen se kisi bhi upkaran ka upayog Powerful Expired Domain ho chuke Domain ko asani se khojne ke lie kiya ja sakta hai!
Lekin main Apko yah dikhane ja raha hoon ki ise samay seema samaapt Domain/ डोमेन khojne ke lie 5 tareke:.net ke saath kaise kiya jae, kyonki yah kaam karne ke lie thoda pechda hai (spamazilla kafi आत्म व्याख्यात्मक hai)
aise kai tarike hain jinse aap Expired Domain khojne ke lie iska istemaal kar sakate hain.
5 Ways To Find Expired Domains
Expired Domain search ke lie 5 tareke:
Keywords: apne Niche se kuchh Keywords darj karen au rwebsite ke link ke saath samapt ho chuke Domain/ डोमेन paenge jo vartamaan mein un Keywords ke lie ranking kar rahe hain. वर्तमान में उन कीवर्ड के लिए रैंकिंग कर रहे हैं।
Expired Domain ko search ke lie Crawl specific website(s) ko, jinse ve link karte hain. jaise aap Wikipedia/विकिपीडिया The New York Times etc.[ द न्यूयॉर्क टाइम्स आदि] ke link ke sath Expired Domain/ डोमेन pa sakte hain.
Reverse Hunt Domains
Reverse Hunt Domains/ डोमेन /हंट रिवर्स डोमेन: ek Domain/ डोमेन darj karen aur software us Domain/ डोमेन ke lie sabhi backlinks/pashch/बैकलिंग mil jaega aur phir unhen Expired Domain/ डोमेन khojne ke lie Scan karen. un Domain/ डोमेन ko tatolane ke lie badhiya jo apke Reverse Hunt Domains/प्रतिस्पर्धियों se bhi judte hain जुड़ते हैं।.
Auction Hunter/ नीलामी हंटर:: 8 expired domain/ डोमेन marketplaces/मार्केटप्लेस khojne ke lie apne keywords/कीवर्ड darj karen aur महत्वपूर्ण मीट्रिक/ mahatvapoorn meetrik important metrics dekhen.
Web 2.0 Hunter:वेब 2.0 हंटर: 20 vibhinn veb 20 विभिन्न वेब 2.0प्लेटफार्मों से प्रासंगिक expired web / samaapt veb 2.0 Domain/ डोमेन khojen.
No 3rd Party Services Required:कोई तृतीय पक्ष सेवाएँ आवश्यक नहीं हैं:
koi 3rd paksh Services aavashyak nahin hain: software bhi bina kisi atirikt lagat ke मैजेस्टिक और मोज/Majestic & Moz se metrics praapt karta hai जो प्रति माह 100 डॉलर बचाता है।. yah sab ek samaadhaan mein hai.
Filtering/Sorting:छानने / छँटाई: chhanne / chhantai : ap asani se kisi bhi metric dvaara chhant sakte hain aur chhan sakte hain jismen aap deshon aur bhashaon ko shamil kar sakte hain. ap traffic vaale expired domains/ डोमेन kharedane ke lie filter bhi kar saate hain!आप ट्रैफ़िक वाले एक्सपायर्ड डोमेन खरीदने के लिए फ़िल्टर भी कर सकते हैं!
Bonus Feature: बोनस फ़ीचर: ap keval 1 Click mein poore websites ko phir se bana sakte hain,
मैं एक बोनस टिप भी साझा करूंगा main ek bonus tips bhi sajha karunga jo Apko/आपको dikhata hai ki kaise traffic ke saath samay-seema samaapt Domain/ डोमेन Panjikrit: पंजीकृत karen! [ मानसिक स्वास्थ्य में प्रति माह 11,000 visitors ] manasik svasthy mein prati maah 11,000 se adhik visitors ke sath ek samay seema expired domains/ डोमेन ke roop mein mere kandhe par dekhen.
Frequently Asked Questions
Q1. Expired domain kya hai? What is an expired domain? एक समय सीमा एक्सपायर्ड डोमेन क्या है?
Answer: Eexpired domain ek domain hai jo pahle ek vyakti ya business / person or business /व्यक्ति या व्यवसाय dvaara पंजीकृत /panjikrit kiya gaya tha jo samaapti tithi se pahle person or businessman नवीनीकृत /naveeneekrt nahin kiya gaya tha. phir unhen kisi aur ke dvaara phir se पंजीकृत/ panjikrit kiya ja sakata hai. jab Domain samapt ho jaata hai to mujhe kaise pata chalega?
Q2. How do I find out when a domain expires? जब डोमेन समाप्त हो जाता है तो मुझे कैसे पता चलेगा?
Answer: Aap pata laga sakte hain ki koi bhi domain whois jaise kai muft whois lookup tool mein se kisi ek ka upayog karke asani se sampt ho jata hai
Q3. Mujhe kaise pata chalega ki kaun Domain ka maalik hai?
Answer: Is tarah ke upkaran apko Domain ke baare mein bahut see baaten bataenge, jab yah Registered hone par yah samaapt ho jaata hai, to sampark vivaran ke saath vartamaan panjikrit/Registered malik kaun hai. Yadi apka Domain expired ho jaata hai to yah turant nishkriy ho jaega. isaka matlab yah hai ki isse jude sabhi services/sevaen bhi kaam karna band kar deti hain. yadi ap yah janchna chahte hain ki Domain ka maalik kaun hai, to ap whois website ya godaddy ka upayog kar sakte hain. apko keval sateek url ya full Domain naam darj karne ki aavashyakata hai aur ap us Domain ke baare mein upalabdh sabhi janakari pa sakte hain.
Q4. What happens if your domain expires?
Answer: Adhikaansh Domain provider/pradaata 40-din ke Renewal/naveenikaran ki avadhi kei peshakash karenge, lekin yah alag-alag ho sakata hai isalie yah sunishchit karen ki khareedaaree karate samay aapako apane Expired Domain ko kitane dinon mein navinikrit karna hai. ap ek samay seema samaapt Domain ke lie adyatan nahin kar sakte hain, lekin Domain aapke lie upalabdh Domain soochee ke bheetar apanee pichhalee dar ke saath pun: sakriy karane ke lie upalabdh hona chaahie.
Q5. What is the grace period for domain renewal?
Answer: Ek Domain renewal period Grace period 'us samay kee avadhi hai jab koee vyakti apane naveeneekrt Domain ko saamaany naveekaran mooly ke lie naveeneekrt kar sakata hai.