Blog Kaise Banae, How To Start A Blog, Blog se Paise Kaise Kamaye: Wo bhi 25 minutes me? Aap ek muft ( free ) aur Aasan step-by-step jankari ki talaash kar rahe hain ki blog kaise shuru karen? to ham aapako bata rahe hai ki kaise blog banae.
Is page par aap mera muft (free) guide apko dikhaega ki ek blog kaise banaaya jae jo sundar, aakarshak (User-friendly) aur karyatmak ho, ab sabhi ek-ek karake aasaan charan-dar-charan (step-by-step) tutorial (chitron ke saath). Aasaan step-by-step tutorial sikhna shuru karne ke lie taiyaar hain?
Aur ab main aapko blogging shuru karne ka aasan bhaasha mein tarika batane ja raha hoon. Main 2018 se blog aur website bana raha hoon, us samay mein maine apne khud ke kai blogs lauch kie hain, aur saikadon logon ko bhi aisa karne mein bahut madad ki hai.
Mujhe pata hai ki ek blog shuru karna behad aasaan hai par bhari aur daraane vaala lag sakta hai.
Blog Kya Hai?
Sankshep/ short mein, (aasaan bhasha mein kahe to ek blog ek tarah ki Website hai jo main roop se likhit saamagri (content ) par kendrit hai, jise blog post ke roop mein bhi jaana jaata hai. Ham aksar samachar blog ya Celebrity blog ke bare mein sunte hain, lekin jaisa ki aap sabhee is guide mein dekhte hain, aap kisi bhi vishay ke bare mein kalpana karke aap ek safal blog shuru kar sakate hain.
Blog Kaise Banae? (ब्लॉग कैसे बनाये?)
Yaha muft (free) guide shuruati logon ke lie blogging ke bare mein jo abhi shuru kar rahe hai , aur aapako bataenge ki keval sabse bunyadi Computer kaushal (basic Computer knowledge/ Jankari ) ke saath blogger kaise bane. To chaahe aap 9 ya 99 ke hon, aap 25 minutes se bhi kam samay mein aap asani se apna blog bana sakte hain.
See Also: What is Blog | Blogging in hindi, Blogging vs YouTube | deeanatech.com
Yah accept karne mein koi sharm nahin hai ki jab main apna khud ka pahli baar blog banana seekh raha tha, to mainne Hazar galtiyan ki thi . Aap mere anubhav se laabhaanvit ho sakate hain, taaki aap apana blog banaate samay in galatiyon ko na doharaen.
Maine yah muft guide banaaya taaki koi bhi seekh sake ki kaise jaldee aur asani se blog banaaya ja sakta hai aur agar aap kisi bhi bindu/point par fans jaate hain,
koi bhi mujhe ek sandesh bhejen aur main madad karne ki puri koshish karunga |
See Also: What is blogging? Career in Blogging | Popular Blogs | Example of a Blog | deeanatech.com
Blog kya hai ? Clear hogaya hoga .
Blogger aksar vyaktigat (keval apane bare mein ) drshtikon se likhte hain jo unhen apne pathakon se seedhe judne ki anumati deta hai. Iske saath hi , adhikansh bloggers ke blogon mein ek "tippani" khand (Comment Box ) bhi hota hai jahaan pathak blogger ke saath mel kha sakate hain. apane paathakon ke saath tippani anubhaag ( Comment Box ) mein baatacheet karne se blogger aur paathak ke beech aur jankari ko aage badhane mein madad milti hai.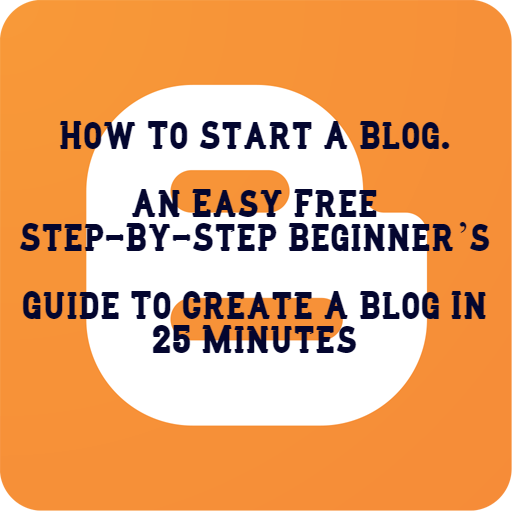 Pathak/Viewer se uska sidha sambandh blog shuru karne ke mukhya/main faydon mein se ek hai. Yah connection/ judaav aapako samaan vicharadhara vale logon ke saath vichar-vimarsh karne aur apane bato aur samajh sajha karne ki anumati deta hai.
Yah apko aur apane pathkon ke sath vishvas banane ki bhi anumati deta hai. Apane pathkon ke prati vishvaas aur nishtha rakhane se aapake blog se paise kamane ka dvaar bhi khul jaata hai, jo ki is maargadarshika mein step-baay -step baad mein charcha ki gaee hai.
Kya aapko apna ek blog shuru karna chahiye?
Apana blog shuru karne ke bare mein galat dharanaon mein se ek yah hai ki apko sarthak safal hone ke lie ek badhiya lekhak banna hoga, lekin sachchaai se is ke aage kuchh bhi nahin ho sakta hai. log blog ko cheejon par vyaktigat drshtikon ( apana khud ka najariya ) praapt karne ke lie padhte hain, islie adhikaansh blogger bahut hi anaupcharik aur sanvaadaatmak shaili mein likhte hain.
Iske alava, ab aapko ek saphal blog banaane ke lie apane vishay par zyada janakar hone ki avashyakta nahin hai ( Apart from this, now you do not need to be very knowledgeable on your subject to create a successful blog. ). Udaaharan ke lie, ek khana pakane vale blog ke pathak aur ek khaadi vaigyaanik se ek paathyapustak nahin padhana chaahte hain,
We kisi aise vyakti ke anubhavon (experienced ) ko sunna chaahte hain jisne vastav mein kuchh vastavik bhojan pakaaya hai. aur achha knowledge/jankari bhi hai uske paas.
Ek safal blogger banne ke lie vastav mein sirf ek cheez ki aavashyakata hai: apne vishay ke lie ek junoon. iske dil mein, blogging apke gyan ko duniya ke saath saajha karne ke bare mein hai.
Kisi aise vishay ko chunna, jiske bare mein aap bhaavuk hain, ek saphal blog shuru karne ki prakriya ko itana aasaan bana deta hai. ek se adhik vishayon ke bare mein likhana puri tarah se theek hai.
Jab tak aap un cheejon ke bare mein likh rahe hain, jin me aap vaastav mein ruchi rakhte hain, to aapaka junoon chamak jaega aur apke pathakon ko dilachaspee rakhega.
To aap blogging ki pareshani mein kyon jaenge? kuchh kaaran hain:
Earn money at home-Ghar se paisa kamao. agar sahi dhang se kiya jae to blogging kafi aakarshak ho sakti hai. Duniya ke shirsh bloggers Zahir taur par kafi kam kamaate hain, lekin yahaan tak ki ek ansha kaalik blogger bhi achchha laabh kamaane ki ummeed kar sakate hain agar cheejen sahee tareeke se ki jaen.
Iske bare mein sabse achchhi baat yah hai ki blogging nishkriy aay ka ek roop hai, kyonki aap blog post likhne ke lie saptaah mein sirf kuchh hi ghante bita sakate hain ( Can spend only a few hours a week to write a blog post ) aur phir blog post likhe jaane ke baad bhi isase paise kamaate rahen. main is guide mein baad mein paise ke lie blog karne ke bare mein adhik vistaar se jaana.
apanee kahaanee saajha karen ek blog aapko aavaz dene aur sunane ki anumati deta hai. Aap apanee kahaanee puri duniya ke saath saajha kar sakate hain yadi aap aisa chunate hain.
Sabse aam tarikon mein se ek blog ka upayog kiya jaata hai ek diary ke roop mein jahaan blogger apne daily anubhavon ke bare mein likhate hain taaki doston, parivaar aur any sabhee apane jeevan ka hissa ban saken.
Apne ya apne vyavasaay ke lie manyata. nahin, aapake paas apane naveenatam blog post ke kaaran sambhavatah aapake aasapaas paapaaraazee nahin hai. Lekin ek safal blog aapko apne sambandhit kshetr mein ek tan ki pahachaan dila sakta hai. But a successful blog can give you the identity of a body in your respective field.
kai bloggers ko unke bloggs ke kaaran hi visheshagy ke roop mein jaana jaata hai, aur kuchh ne apane blog ke aadhaar par buk aur moovee deel bhi praapt ki hai.apane ya apane vyavasaay ke lie maanyata dena. nahin, aapake paas apane naveenatam blog post ke kaaran sambhavatah aapake aasapaas paapaaraazee (ashisht bhaasha mein)nahin hai.
Lekin ek safal blog aapko apne sambandhit kshetr mein ek tan ki pahachaan dila sakta hai. kai blogars ko unake blogon ke kaaran hee visheshagy ke roop mein jaana jaata hai, aur kuchh ne apane blog ke aadhaar par buk aur moovee deel bhi praapt ki hai.
achchhi khabar yah hai ki internet abhi vikas ke saath visphot kar raha hai. pahle se adhik log online hain. vrddhi mein yah visphot aapake blog ke lie adhik sambhaavit paathakon ka matalab hai. Sankshep mein, yadi aap ek blog shuru karne ke bare mein soch rahe hain to abhi isase behatar samay nahin hai.
To, Bas Blog kaise Shuru Karte Hain Jaane?
So, just how do you start a blog?
Jaane in 6 steps mein ek blog kaise shuru karen ?
in 6 steps ka paalan karte hue lagabhag 25 minutes mein blog banaane ka tareeka jaane |
Choosing a Niche
Ek blog ka naam chunen. kuchh varnanaatmak (Descriptive)chunen.
Apana blog online praapt karen. apane blog ko register karen aur hosting praapt karen.
Apne blog ko customize karen. ek muft tempalet chunen aur ise edit karen.
Apni pahli post likhen aur prakaashit karen. maza karen
Apne blog ka prachaar karen. apane blog ko padhane ke lie aur logon ko sampark karen.
Paise kamaen blogging se apne blog ko mudrikrit ( monetize ) karne ke lie kai vikalpon mein se chunen.
chalo ab apana blog shuru karate hain!
Step1. Choosing a Niche
Ek blog shuroo karane ke lie pahala kadam ek Niche chunana hai jisake baare mein aap bhaavuk hain. aala ek vishisht vishay ya vishay hai jisake chaaron or aapaka blog ghoomega. kuchh lokapriy kshetron mein bhojan, yaatra, phaishan, jeevan shailee aur praudyogikee shaamil hain. aisa aala chunana mahatvapoorn hai jisake baare mein aap bhaavuk hain aur jisamen aapakee visheshagyata hai. isase aapako uchch-gunavatta vaalee saamagree banaane mein madad milegee jo aapake darshakon ke saath pratidhvanit ho.
Step2: Ek blog naam chunen.
Ek achchha blog naam khojne ke lie pahla kadam apne vishay ka chayan hai. The first step to finding a good blog name is choosing your topic..
yadi aap is bare mein nishchit nahin hain ki blog ke bare mein kya hai, to ek achchha blog vishay khojane ke kuchh tarike hain:
Shauk aur junoon. shauk ya any ruchiyaan jinke bare mein aap bhaavuk hain, ek shanadar jagah hai. yaatra, fashion, khel, sabhee classic udaharan hain. lekin yahaan tak ki adhik aspasht shauk ke bare mein blog bhi saphal ho sakate hain, kyonki aapake darshak sachamuch intaranet ke saath duniya mein koi bhi hain.
Jeevan ke anubhav. sabhi ke paas jeevan ke anubhav ke maadhyam se seekhe gae sabak hain, is gyaan ko saajha karna samaan sthitiyon mein doosaron ke lie avishvasaneey roop se sahaayak ho sakta hai.
Udaaharan ke lie, maine haal hee mein ek mahila ko fireman ki patnee hone ke bare mein apna blog shuru karne mein madad ki is vishay mein doosaron ke saath saajha karne ke lie usake paas bahut anubhav aur gyaan hai, aur isne use samaan paristhitiyon mein doosaron se judane mein madad ki hai.
Jeevan mein aapake dvaara anubhav ki gaee cheejon ke bare mein sochen. yah aapake parivaar se sambandhit ho sakta hai (udaaharan: hom mom mein rahane ke bare mein ek blog), kaam (graahakon se nipatane ke anubhavon ke bare mein ek blog),
Ya koi jeevan ke anubhav (ek pareshaan samay se nipatane ke bare mein ek blog jaise beemaaree ya talaak, ya ek khush samay ke bare mein jaise shaadee ya bachche ke janm ki taiyaaree).
A personal blog is a blog for all of you– Ek nijee blog aap sabhi ke lie ek blog hai. ismen kai tarah ke vishay shaamil honge, jo aap dainik aadhaar par karate hain, yaadrchchhik vichaaron aur vichaaron ke lie.
yah sif ek vishay par tike bina aapko duniya ke saath vichaar saajha karne ka ek shaanadaar tareeka hai. ek baar jab aapake paas ek vishay hota hai to yah aapake blog ka naam chunane ka samay hota hai.
Ek achchhe blog ka naam varnanaatmak hona chaahie taaki sambhaavit paathak turant yah bata saken ki aapake blog ka naam kya hai. The name of a good blog should be descriptive so that the potential reader immediately explains what your blog's name is.
Yadi aap ek vishisht vishay ke bare mein blogging kar rahe hain to aap nishchit rup se ise kisi tarah apne blog naam mein shaamil karna chaahenge. haalaanki keval ek shabd par lataka hua nahin hone ka prayaas karen. udaaharan ke lie, khaana pakaane vaale blog mein jarooree nahin ki usamen "khaana pakaane" shabd ho. shabd "bhojan", "vyanjanon", aur "bhojan" bhi logon ko bataenge ki aapaka blog khaana pakaane ke bare mein hai.
If you are planning to create a personal blog– aap ek vyaktigat blog banaane ki yojana bana rahe hain, jahaan aap vibhinn vishayon par charcha karate hain, to main aapake naam, ya isake kuchh bhinn roop ka upayog karne ki salaah deta hoon, kyonki aapaka blog aapake bare mein hai. udaaharan ke lie, main blog ka maalik hoon. yadi aap paate hain ki aapaka naam pahale se hee liya gaya hai, to aap apana madhy naam ya antim naam jod sakate hain.
ek baar jab aapake paas kuchh blog naam vichaar honge, to aapako ek domen eksatenshan chunane ki aavashyakata hogi. Once you have some blog name ideas, you will need to choose a domain extension
1. .com
1 A .com domain is one of the most preferred, but .net or .org works as well:- .Com domain ek sabse pasandeeda hai, lekin .net ya .org kaam bhi karata hai. yah bhi dhyaan rakhana mahatvapoorn hai ki blog domen ke prayojanon ke lie aapake paas shabdon ke beech koi sthaan nahin ho sakta hai.
ab jab aap aana naam praapt kar chuke hain aur yah sunishchit karne ke lie ki yah kisi aur ne pahale se hee darj nahin kiya hai, yah sunishchit karne ke lie eksatenshan ka samay chuna hai:
Note : Aap kisi domain naam mein daish( _ ) ke alaava kisi bhi sthaan ya viraam chihn ka upayog nahin kar sakate
Yadi aap paate hain ki aap jo naam chaahate hain vah pahale se hee liya hua hai to kuchh cheejen hain jo aap kar sakate hain:

Ek alag chhote shabd joden. you,"a", "best","my", ya "the" jaise shabd. udaaharan ke lie, Add a different short word. Words like you, "a", "best", "my", or "the". for example,
Step 2: Apna blog online praapt karen.
Ab jab aapako apna naam mil gaya hai to apne blog ko online karne ka samay nikal gaya hai. yah kathin ya takaniki lag sakta hai, lekin niche die gae charan aapako sahee tareeke se chalenge aur prakriya ko aasaan banaenge.
Apne blog ko chalane ke lie aapko do cheejon ki aavashyakata hotee hai: blog hosting aur blogging sophtaveyar. achchhee khabar yah hai ki ye aamataur par ek saath aate hain.
Ek blog host ek company hai jo aapke blog ke lie sabhee files ko sangraheet karatee hai aur jab ve aapake blog ke naam mein taip karatee hain, to upayogakarta ko vitarit karatee hain. blog hone ke lie aapake paas ek blog host hona chaahie.
Apne blog ko banane ke lie aapake paas hosting hona bhi aavashyak hai. is guide mein main aapko dikhaunga ki WordPress blogging software ka upayog karke blog kaise banaaya jaata hai, kyonki yah sabse lokapriy, anukoolan yogy aur upayog mein aasaan hai.
Main ise sujhaata hoon, aur jo main aapko is guide mein upayog karne ka tarika dikhaata hoon, ap hosting lene ke liye mewnix.com par ja sakte hai. main vyaktigat roop se mewnix.com ka upayog karta hoon aur main unhen sabhee nae blogars ke lie salaah deta hoon kyonki:
Read Also about Hosting
Guide for moving blogger to WordPress, How to move from blogger to WordPress? Buy Hosting
ye aapke blog ka naam aapake lie muft mein panjeekrt karenge, aur yah sunishchit karenge ki koi aur ise nahin le sakta.
Ye WordPress blogging software ka ek muft, saral installation pradaan karate hain (jo main aapako is guide mein upayog karne ka tareeka dikhaata hoon).
unhen 2005 se WordPress dvaara anushansit kiya gaya hai aur vartamaan mein 2 miliyan se adhik blog aur websites ki mejabanie karta hai.
unake paas phon ya veb chait ke maadhyam se 24/7 graahak seva hai.
yadi aapake paas kisi bhi kaaran se asantusht hain, to unake paas money-back guarantee hai.
ab jab domain register kar chuke aur blog par register bhi kar chuke sign Up bhi kar chuke
Step 3: Apne blog mein badalaav ( customize ) kare
Logging in Yadi aap pahle se log-in nahin hain, to mewnix.com par jaen aur login screen par click karen. fir aap apane domain naam aur pichhale charan mein nirdhaarit paasavard ka upayog karake login kar sakate hain. yadi aapane apana paasavard galat kar liya hai to aap "paasavard bhool gae" link par klik karake ise reeset kar sakate hain
ek baar jab aap log-in karate hain, to apko apne mewnix.com portal par le jaaya jaega. portal se aap apne blog mein svachaalit roop se log-in karne ke lie "log in WordPress" par click kar sakate hain.
Apne blog ka design karna
Login karte hi aap WordPress administration area– Cpanel, mein pahunch jaenge. yah vah jagah hai jahaan aap apane blog mein ichchhit parivartan kar sakate hain.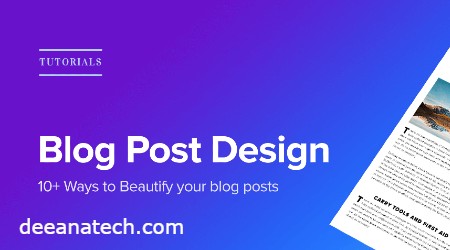 Everyone has a different idea of how they want to see their blog– Har kisi ka ek alag vichaar hai ki ve kaise apane blog ko dekhana chaahate hain. ek vardapres blog ke bare mein mahaan cheejon mein se ek yah hai ki aap bas kuchh hee klik ke saath apne pure layout aur design ko badal sakte hain.
WordPress mein, blog layout ko "theme" ke rup mein jaana jaata hai. Blog theme kya hai? themes aapke blog ke pure design ko control karte hain. apne vishay ko badalne ke lie aap left menu par tab par click karne ja rahe hain.
Installed WordPress theme
Aap dekhenge ki aapke blog par pahle se hi kai theme install hain: Twenty seventeen, Twenty eighteen, Twenty nineteen, Twenty-Twenty, Twenty Twenty-one, Twenty Twenty-two, Twenty Twenty-three, Twenty Twenty-four, year wise etc. ye achchhi tarah se design kie gae, saaph-suthare dikhane vaale theem hain jo kisi bhi prakaar ke blog ke lie kaam kar sakate hain. vaastav mein, duniya ke kai sheersh blogar inamen se ek theem ka upayog karate hain.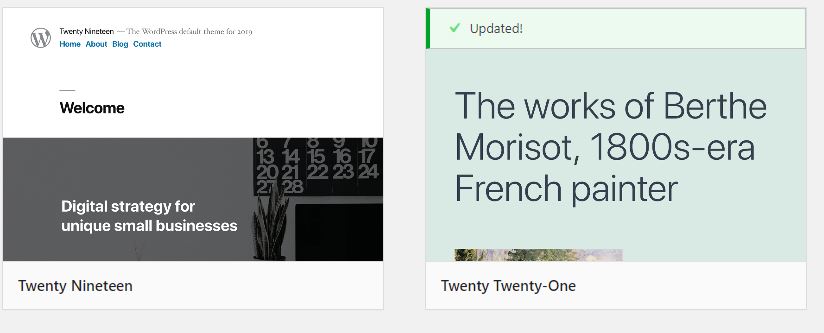 See Also: Best themes for WordPress and Blogger free download 2020, best blog theme for WordPress.
Jab tak aapke man mein aapke blog ke lie bahut vishisht desing na ho, mera sujhaav hai ki aap inmein se kisi ek theememe ka upayog shuru karne ke lie karen. hamaare udaaharan ke lie, "Tenent nineteen" theme ka upayog karen. apane blog par vishay ko sakriy karne ke lie, vishay par hovar karen aur "sakriy karen" batan par klik karen. bas! aapane apane blog ke poore dizain ko keval ek klik ke saath badal diya hai!
yadi aap pahale se sthaapit kisi bhi vishay ko pasand nahin karate hain, to aap asani se hajaaron any muft theemon mein se chun sakate hain. ek naya vishay sthaapit karne ke lie, baen menoo par "upasthiti" taib par klik karen aur phir "naya theem joden" par klik karen.
Apne vishay ko badalana aapke blog ko customize karne ka sabse saral tarika hai, lekin bahut saare any anukoolan hain jo aap kar sakate hain. ek gaharaee se charan-dar-charan maargadarshikaguide ke lie apne blog ko anukoolit karne par meree puri post dekhen. Aap mujhe is blog ke ant mein veediyo dekh sakate hain, mujhe ek blog ko puri tarah se kharonch se anukoolit karne ke lie dekh sakate hain.
Step 4: Blog post kaise likhen aur ise publish karen
Ab jab aapka blog taiyaar ho gaya hai aur vaastav mein kuchh blogging karne ka samay chal raha hai! Now that your blog is ready and it's actually time to do some blogging!
Aap dekhenge ki vahaan pahale se hee ek post hai. yah har nae WordPress blog par ek default post hai, aur hamen iskeei need nahin hai. ise hataane ke lie post ke neeche "kachara" par klik karen.
Ek naya post likhana shuru karne ke lie, "naya joden" link par klik karen.
Ab aap post editer screen par hain. Apnee post ka heading mein darj karen aurfir nichle box mein apni post likhna shuru karen.
Yadi aap apni post mein koi imngae jodna chahte hain, to "add image" icon par click karen aur apne Computer se ek image upload karne ke lie "upload karen" par click karen. Aap agali screen par image size mein samaayojan kar sakate hain. jab aap taiyaar hon to chitr jodane ke lie "post mein sammilit karen" par clik karen.
Ek baar jab aap apana pad samaapt kar lete hain to ise prakaashit karne ke lie skreen ke ooparee daeen or "prakaashit karen" batan par klik karen.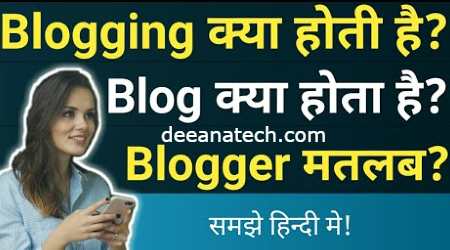 Publish your blog | Apka blog prakaashit karna |
Apke dvaara ek post likhe jaane ke baad bhi aapka blog abhi bhi "coming soon" page dikha raha hai.
Jab aap apane blog ko publish karne ke lie taiyaar hon,
BADHAI Ho! ab aap jaanate hain ki apana blog kaise shuru karen aur saamagree prakaashit karen!
Step 5: Apne blog ko badhava de
Ek achchhee tarah se design kiya gaya blog banana aur badhiya saamagree likhana abhi shuruaat hai. Apne blog ke lie paathakon ko praapt karne ke lie aapko ise badhaava dene mein kuchh samay bitaana hoga, khaasakar jab aap pahli baar shuru karate hain.
Read Also: How to Choose the Best Blogging Platform.
paathakon ko mere blog par laane ka mera pasandeeda tareeka phesabuk aur tvitar jaise mere soshal meediya akaunt par link post karna hai. yah bahut achchha hai, kyonki na keval aapake mitr link dekhate hain, balki yadi aapake mitr apane doston ke saath link saajha karate hain, to yah svachaalit roop se aapake paathakon ko guna karata hai. yadi aapane apane blog par uchch-gunavatta ki saamagree banaee hai, to soshal meediya aapake blog ko vaayaral karne ka ek shaanadaar tareeka hai.
apane blog par nae paathak praapt karne ke alaava, aap yah bhi sunishchit karna chaahenge ki aapake vartamaan paathak vaapas aa rahe hain. yah vah jagah hai jahaan eemel vipanan ek badee bhoomika nibhaata hai.
Apne aagantukon ke e-mail pate hai, ekatr karake (unakee anumati ke saath), aap tab unhen soochit kar sakate hain jab aap apane blog par kuchh naya post karate hain. yah aapake blog par vaapas aane vaale logon ko rakhata hai, jo na keval aapako samay ke saath adhik paathak deta hai, yah aapako apane paathakon ke saath ghanishth sambandh banaane ki anumati bhi deta hai.
E-mail marketing bahut achchhi tarah se yahaan cover karne ke lie ek vishay hai, islie maine ruchi rakhne vaalon ke lie eemel maarketing ke lie ek alag guide banaaya
adhik paathakon ko is guide ko padhane ki aavashyakata hai).
apane blog ko badhaava dene ke adhik sujhaavon ke lie sunishchit karen
Step 6: Make Money from Blogging | Paise Kamaen Blogging Se
Ek baar jab aapne mahaan blog saamagree banane aur apne blog ko badhaava dene ke prayaas mein laga diya, to aapake blog se paisa kamaana vaastav mein aasaan hissa hai.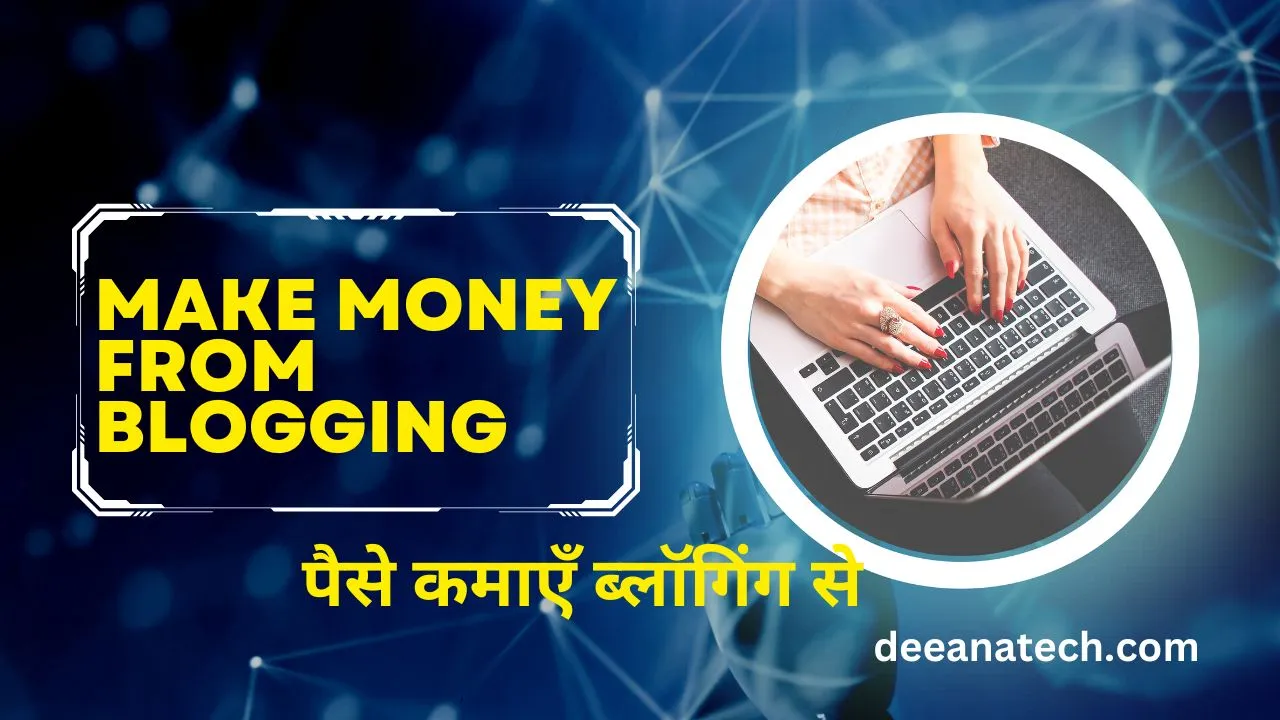 Aise kai tarike hain jinase aap apane blog ya utpaadon ki sevaon ko bechne se lekar apne blog par utpaadon ki sameeksha likhane ke lie bhugataan kar sakate hain. lekin apane blog se paise kamaane ka sabse aasaan tareeka hai vigyaapan ki jagah bechana.
Once you have a popular blog: Ek baar aapke paas ek popular blog hone ke baad, Adviser aapko vigyaapan dene ke avasar ke lie haunding karenge. is sthiti ka laabh uthaane ka sabse achchha tareeka googlai adsainsai ka upayog karna hai.
ve aapake lie advertiser ko search karte hain aur aapko jo kuchh bhi karna hai, vah vigyaapan chalane ke lie Google AdSense apne blog par rakhna hai. Google AdSense saari mehanat ko is prakriya se baahar le jaata hai aur bas aapako ek chek kaat deta hai.
Rad Also how to earn money online without investment.
Google AdSense Tutorial, Check Google AdSense Earnings and Google AdSense Payment, My absence account, deenatech.com
Aur Kya madad chaahiye?
Mujhe ummeed hai ki is guide ne aapke dvaara blog shuru karne ke bare mein puchhe gae kisi bhi question ka answer diya hai, lekin yadi koi bhi kadam aapke lie clear tha, to aap is page ke menu ka upayog karake pratyek charan ka adhik vistrit sanskaran pa sakate hain ( ya yadi aap smartphone par hain to is page ke nichale bhaag mein).
yadi aapake paas koi samasya hai to mujhase sampark karen aur main vyaktigat roop se aapke e-mail ka javaab dunga.
Is par Step-by-step guide Blog Kaise Banae, How To Start A Blog aapko vah sab kuchh dena chaahie jo aapko start karne ki need hai, lekin yadi aap kuchh muddon mein bhaag lete hain, ya bas kuchh vyaktigat salaah chaahate hain, to kisi bhi samay mujhse sampark karne mein sankoch na karen. blogging mera junoon hai, aur main aapke saath iske bare mein baat karna pasand karoonga!
FAQ
Q: What is a blog?
A: A blog is a website or section of a website where an individual or organization shares their thoughts, ideas, or expertise on a particular topic or range of topics.
Q: How do I choose a niche for my blog?
A: To choose a niche for your blog, consider your interests, hobbies, and expertise. It is important to choose a topic that you are passionate about and have knowledge in, as this will help you produce high-quality content that resonates with your audience.
Q: What is a content strategy?
A: A content strategy is a plan for the type of content you will create, how often you will post, and the channels you will use to promote your content. It is important to create a content strategy that aligns with your niche, target audience, and goals.
Q: Do I need to have technical skills to set up a blog?
A: No, you do not need to have technical skills to set up a blog. There are many blogging platforms available that are user-friendly and require little to no technical knowledge. Additionally, many web hosting providers offer easy-to-use website builders that make it simple to set up a blog.
Q: How often should I post on my blog?
A: The frequency of your blog posts will depend on your content strategy and goals. It is important to be consistent with your posting schedule, whether that means posting daily, weekly, or monthly. Consistency will help you build a following and keep your readers engaged.
Q: How do I promote my blog?
A: There are many channels you can use to promote your blog, including social media, email marketing, and guest posting. Social media is a powerful tool for promoting your blog, as it allows you to reach a large audience quickly. Email marketing is also effective, as it allows you to build a relationship with your audience and drive traffic to your blog. Guest posting on other blogs is another effective way to promote your blog and build your reputation as an expert in your niche.
Q: How long does it take to build a successful blog?
A: Building a successful blog takes time and effort. It can take anywhere from several months to several years to build a following and generate significant traffic and revenue. It is important to be patient and consistent with your content strategy and promotion efforts.